Osteguna, 2021(e)ko urriak 14

RSS
Osteguna, 2021(e)ko urriak 14
Duela 25 urte, gaurko egunean, Matthias Ettrich-ek e-posta bat bidali de.comp.os.linux.misc berri-taldera bera lanean ari zen proiektu bati buruz azalpenak emanez. E-posta haren emaitza berri eta zuzenenak (gehi mende laurdeneko esperimentazio, garapen eta berrikuntza etengabeak) KDEren gordetegietan lur hartu berri du.
Oraingo honetan, Plasmak bere itxura berritzen du eta, horma-paper berritu bat bakarrik ez, baizik eta eguneratutako gai batek dakarren aire freskoa ere jasoko duzu: Breeze - Blue Ocean. Breeze gai berriak ez ditu KDE aplikazioak eta tresnak erakargarriagoak egiten bakarrik, erabiltzeko errazago ere egiten ditu, hala mahaigainean, nola telefono eta tabletan ere.
Jakina, itxura ez da Plasma 25AEgandik espero dezakezun gauza bakarra: abiadura gehikuntza, fidagarritasun areagotua eta ezaugarri berriek aplikazio abiarazle, software kudeatzaile, Wayand-en inplementazio, eta Plasmaren beste tresna eta erabilgarritasun gehienetarako bidea aurkitu dute.
Jarraitu irakurtzen Plasma 25AE berriak ospakizun bat merezi izatea egiten duten xehetasun guztiak ezagutzeko: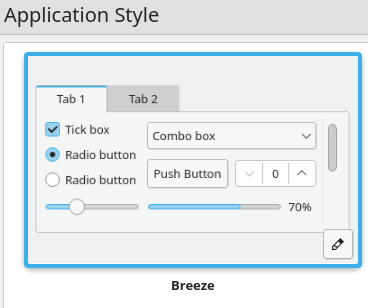 Itxura
Horma-paper berriaz gain, nabarituko duzun lehenengo gauza gai berria izango da. Breeze — Blue Ocean(e)k Plasmaren itxura hobetzen du eta argiago egiten du zertarako diren. Elkarrizketa-leiho bateko elementu aktiboak, esaterako, «argitu» egiten dira leihoak arreta jasotzen duenean, kontrol-laukiek benetako tik markak erakusten dituzte eta aukera-botoiak bonbillak bezala pizten dira. Kiribiltzeko barrak eta biratze-laukiak handiagoak dira, ukimen-pantailetarako irisgarriagoak eta erabiltzeko errazagoak eginez, baina diseinatzeko eragatik itxura dotorea mantentzen dute mahaigainean eta magaleko makinetan.
Beste gauza batzuen artean, distira eta estiloa gehitzeko balio duten xehetasun batzuk gehiago. Adibidez, aplikazio bat abiaraztean edo prozesu bat burutzeko itxoitean, ataza bukatu bitartean biraka dabilen engranaje bat ikusiko duzu; mahaigaineko trepetek, orain, atzealde gandutsu bat dute eta nabarmentzeko efektu bat hartzen dute panelera gerturatzen dituzunean.
Horrelako xehetasun sotilek, mahaigainaren itxura hobetzeaz gain, ia subliminala den itzulerako informazioa ematen dizute, aktibo zer dagoen eta zer ez eta Plasma mahaigaineko elementuek zurekin eta haien artean nola elkarreraginen duten zeharka iradokiz.
Sistemako ezarpenak
… Eta, Plasmaren itxura berriari buruz ari garela, Sistema-ezarpenetako gauza berriei buruz hitz egin behar dugu. Gai orokorra > Koloreak barruan, mahaigaina nabarmentzeko koloreak hautatzeko aukera berri bat aurkituko duzu. Nabarmentzeko koloreak goitibeherako menuetan eta zerrendetan nabarmendutako elementuen koloreak dira, panelean hautatutako aplikazioen ikonoetako atzealdea, aurrerapen barretako barra bera, egiaztapen-laukien eta aukera-botoien atzealdeak, eta abar.
Now say that, instead of the cool blue of Plasma's default color scheme, you are feeling fabulous and want a hot pink for all those things: that is actually the first choice in the list. Or maybe you want like a certain chameleon-based distro and an intense green is your thing? You can do that too. To make sure your colors match those of the overall theme, just click on the From current color scheme and things will go back to what they were.
Talking of walking stuff back, changing the monitor resolution can lead to an unusable desktop. That's why now you get a countdown: under System Settings > Display and Monitor > Display Configuration , once you pick a resolution and press the Apply button, a dialog window with the countdown will pop up. If after 30 seconds you haven't clicked the Keep button (say, because your desktop has become inaccessible) the system will revert to the original, safe resolution. And this is just one of the ways of protecting you against accidental configuration mishaps.
Because keeping your system operational and safe is one of our main concerns. That is why we always advise you when you are going to share data you may not be aware of. Take, for example, Night Color: one of the things you can do is use geolocation to synchronize the color temperature of your screen with the periods of day and night of where you live. The Night Color page in your System Settings will tell you when sharing your location with a third party's service that provides the times of sunrise and sundown in your area, and will also tell you who said the third party is. Likewise, the Feedback page now will show you a history of data that you have chosen to send to KDE. Note that Feedback will always be set to off by default. You have to explicitly and consciously switch it on before any data leaves your machine.
Another thing you will want to keep an eye on is your Bluetooth adapter. That is why you can set its status on login. Your options are Enable Bluetooth, Disable Bluetooth and Remember previous status.
If finding all the options you need seems daunting, don't fear! We have made things easier by adding many keywords to improve searches. Just type in what you are looking for in the Search box and System Settings will provide you with all the related options.
Kickoff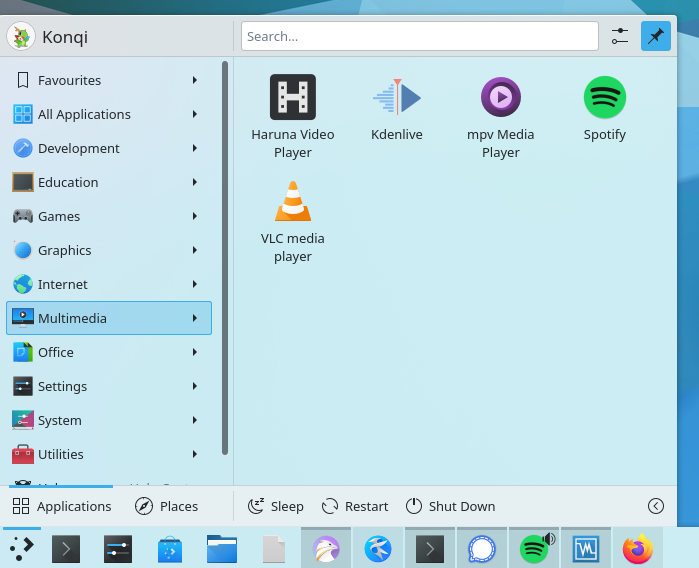 Of course, once you are done configuring, you will actually want to reach your apps. You can do that through Kickoff, the application launcher that, in a default Plasma layout, lives in the bottom left-hand corner of your screen. Kickoff was already given a massive overhaul a few versions ago, but again we have rewritten large parts of the code to make it faster and easier to use.
And we added new options, of course. For example, now you can make Kickoff stay open on the screen with the new pin button located in the upper right-hand corner. By clicking on the Configure Application Launcher button to the left of the pin, you can choose whether to use a list or a grid for the apps views and configure the power/session action buttons.
Kickoff ere ukimenarekiko lagunkoiagoa egin dugu, ukimen-pantaila batean hatzarekin sakatu-eta-eusten baduzu, Kickoff-en testuinguru-menua azaleratuko da.
Sistemaren erretilua
You will find the System Tray, on a default Plasma desktop layout, on the right-hand side of the bottom panel bar. The System Tray is important because it contains things you would typically want to keep an eye on, like notifications, the sound volume, the network status, etc. As the System Tray is a vital and (literally) iconic part of the Plasma desktop for many users, care has been taken to improve its usability and that of the widgets it contains.
One widget you can access is the Clipboard, the place stuff you copy goes and where applications get the things when you paste them somewhere else. The Clipboard has been improved in several ways, for example, it now remembers 20 items by default and ignores selections that you did not explicitly copy. This gives you more to pick from when copying, while at the same time decluttering the list by removing snippets you may have accidentally or absentmindedly highlighted while working with Plasma. To further help you keep things tidy, you can also remove selected items from the clipboard's popup by pressing the [Delete] key on the keyboard. Talking of copying and pasting, you can now easily copy text from notifications with the Ctrl + C keyboard shortcut.
A new thing in the Audio Volume applet is that it now distinguishes between applications that are currently playing or recording audio and the Media Player widget always displays the album art and its blurred background at the same time of any song that is playing. We also added an easy way to switch power profiles from the Battery and Brightness widget. You can choose between "power-saver", "balanced" and "performance".
As for the network widget, Plasma now shows more details about the currently-connected network, and you can fine-tune the manual speed setting for wired Ethernet connections. The applet also supports additional authentication settings/protocols/requirements for OpenVPN connections and allows you to disable IPv6.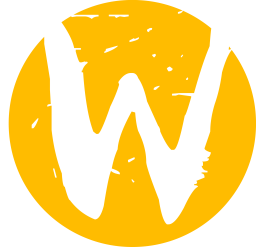 Wayland
Plasma Wayland pean osorik funtzionala egitea lehentasuna da KDE komunitatearentzat. Wayland, Plasma garatzaileei mahaigainerako askoz gehiago egiten utziko dion protokolo bat da, errendimendua hobetzea, egonkortasuna handiagotzea eta funtzionaltasunak gauzatzea, horien artean ukimen-pantailak dituzten gailuek behar dituzten horiek.
Argitalpen honetan, aplikazioak abiaraztean, kurtsoreak orain, animatutako erakusgarri bat erakusten du eta gailu mugikorretako pantaila biratzeko animazio berria gehitu dugu, telefono, tableta eta magaleko/tableta ordenagailu hibridoen gisako gailu eramangarrietarako. Horrekin lotuta, Wayland-en tableta moduan sartzean Sistemako erretiluko ikonoak handitzen ditu. Sistemako erretiluak jakinaraziko dizu zerbaitek pantaila grabatzen duenean eta hura bertan behera uzten utziko dizu.
Mahaigainerako eta aplikazioetarako Wayland euskarri osora iritsi bitartean, XWayland erdibideko protokoloari ere euskarria ematen diogu eta, Plasma 25. UEan, orain, erdiko-klika erabil dezakezu itsasteko, eta gauzak arrastatu eta jaregin ditzakezu jatorrizko Wayland eta XWayland aplikazioen artean.
Discover, Plasmaren aplikazio gunea, orain, azkarrago zamatu eta gardenagoa da, deskribapen osoa irakurri behar izan gabe, instalatzeko botoian bertan erakusten bai dizu programak nondik instalatzen ari zaren.
Monitore bat baino gehiago baduzu, zorionekoa zu, orain, pantaila anitzeko antolaerek X11 eta Wayland saioen artean bere horretan diraute.
Zerbait okertzen bada, DrKonqi, era errazean iruzkinak guri bidaltzen uzten dizun aplikazioak, orain, ohartarazten dizu aplikazio bat mantentze-lanik ez duenean.
Leihoak alferrikako botoiek sortzen duten nahaspilatik gehiago librazeko ahaleginean, titulu-barrako galdera-ikur botoia, era lehenetsian, ezkutuan dago elkarrizketa-koadroetan eta Sistema Ezarpenetan.
Lagungarriak ez diren osagaiak kentzeko gaiarekin jarraituz, saio-haste automatikoa ez duten, pasahitzik gabeko kontuek, orain, saio-hasteko botoi xume bat erakusten dute pasahitzerako testu eremurik gabe, zertarako beharko luke?
Eta, beti bezala, egonkortasun orokorra hobetu dugu zure sistema kraskatu edo zintzilik utz dezaketen akats iheskorrenak ere ehizatuz.
… Eta oraindik askoz gehiago dago. Aldaketa zerrenda osoa ikusi nahi bazenu, behatu Plasma - 25. Urteurreneko Edizioaren aldaketen egunkaria.